Writing – Architect / Samar Reda Al Arabi & Review & Publish – Architect / Shaima Magdy.
an introduction
Wallpaper mother of paint Choosing between these two wall options can sometimes be challenging as they both have their own advantages, however you need to decide which one will work best for you, using the right wallpaper and knowing the best paint procedures are excellent first steps in achieving an interior design that you just don't like , but maintains its appearance in the long term.
You can use a simple and light paint color that makes the room lively, and you can use wallpaper that makes the room look darker with an attractive design, the right choice depends on your unique needs, and to facilitate your choice, wallpaper and paint will be compared through these important points that we will show together.
1-

durability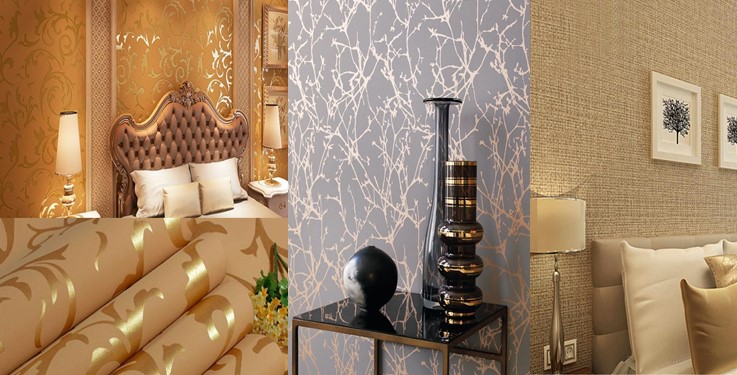 Wallpaper
Its features: Considered your long term partner, it may last for about fifteen years it is very durable and will stand up to children's play, heavy traffic areas and many items are rubable.
Disadvantages: Not safe from rips, any mishap means you'll have to redo the entire stripping and sticking process, which takes longer than repainting, since wallpaper is applied with an adhesive, bathrooms and kitchens with high humidity may cause wallpaper to peel away from the wall .
paint
Its features: High quality on walls Good choice for areas that need inexpensive and easy to apply paint Semi-gloss to high gloss paints are durable and are usually reserved for exterior doors etc… Satin, eggshell and sometimes flat gloss are used on interior walls.
You can learn about the latest fashion trends in paints from here
Disadvantages: Paint tends to fade and flake in areas of high use and exposure to sunlight especially for lighter-colored paints, and wall damage, abrasions, or collisions cause paint to crack and repair and repainting will be necessary.
---
2-

Diversity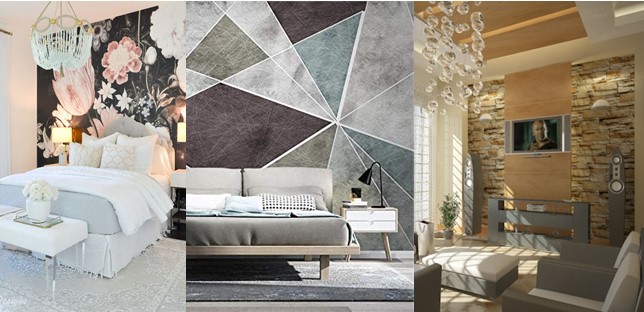 Variety in colors and finishes is a major plus point if you are looking for a unique look for your home, fortunately there is no dearth of diversity in both wallpaper and paint, both paint and wallpaper come in unlimited varieties and colors.
Wallpaper
Wallpaper offers many choices, some are made of paper, fabric or vinyl for durability and a variety of finishes, your family's lifestyle can make a big difference in the finish you choose, and it comes in many shapes and colors that range from classic motifs From elegant to vibrant contemporary styles, you can find what you like if you search through the options available.
paint
The paint can be easily blended automatically now for a guaranteed result, paint is available in every color you can mix and match as you like, when applied with hundreds of installation techniques in use today, paint can create amazing effects that completely change the look of any home, and your computer ensures that you get exactly the The tone and gloss you desire, you can also choose from a variety of finishes such as matte, satin, semi-gloss and gloss.
---
3-

processing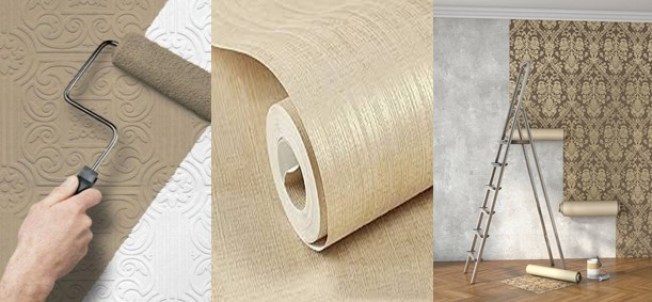 The time it takes to prepare the wall before applying paint or wallpaper should be taken into account. If you are starting from a new wall, you can avoid this suggestion. If you have an unclean wall, keep reading.
Wallpaper
Disadvantages: Pasting wallpaper requires covering and repairing defects such as sealing holes in the wall, so getting rid of the remaining wallpaper is a tedious task that needs endurance and the right tools to be effective, but maintenance must be done during the house renovation plan so as not to damage the wall, and wallpaper cannot be used in every part From the house it would be unwise to use it in bathrooms and kitchens which are always damp, and the wallpaper will fade in a matter of time.
paint
Paint is easier to apply and requires less effort. On the other hand, if you're painting over a clean airy wall, organize flawlessly with grout and allow it to dry 24 hours in advance. Applying a primer before painting over the darker paint will make your sketch layout calmer. Painting needs significantly less planning time than wallpaper.
---
4-

combination of the two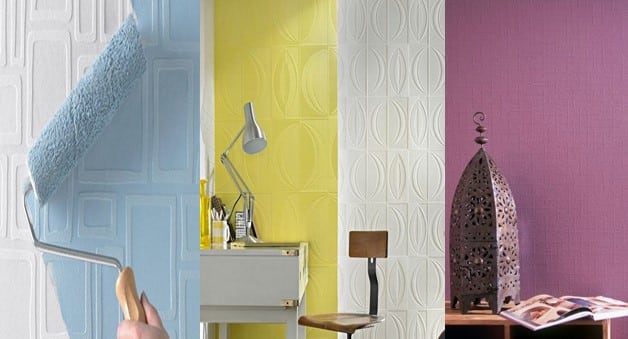 Many people want the versatility of adding texture to their wall with customizable paint colors.
paintable wallpaper It is a product that comes in rolls or sticky boxes. After you apply textured wallpaper, it can be left bare or can be painted, painting over wallpaper can save you a lot of effort, investment and long working hours, whether you want to paint the entire room, create a feature wall or simply add a fresh and vibrant color accent to the Wall, you can paint on wallpaper without any problem, you will get a beautiful wall color with some careful planning and a few easy steps.
---
5-

the cost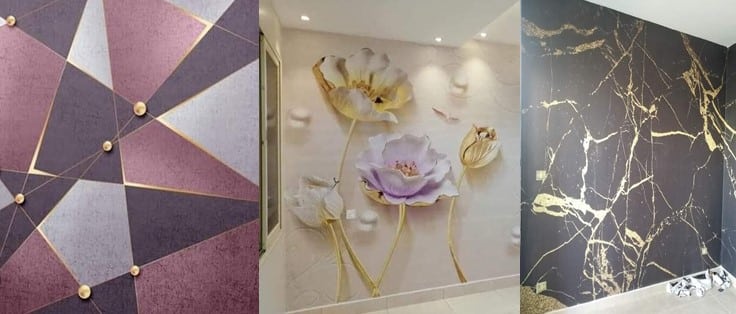 The actual cost, whether for paint or wallpaper, depends on the quality and brand of the selected products.
Wallpaper
It is a more expensive one-time investment because it lasts longer, if it sticks well, it lasts longer than paint, thus it can be called the cheapest option in the long run despite its initial high cost, it is usually more expensive to buy wallpaper because of the rollers materials and their installation.
paint
Paint is usually inexpensive and non-professionals can use it, as the number of supplies needed to paint the wall is also few compared to installing wallpaper that needs glue and other materials, the time, effort and skill required for application is relatively less, this means that the total cost incurred for each paint job will be lower Relative to the cost of wallpaper.
---
6-

the work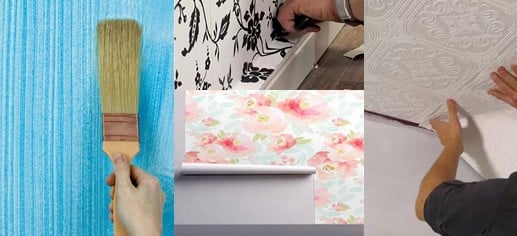 Wallpaper
Wallpaper needs a skilled and meticulous worker, if cheap labor is used, the wallpaper may not stick well and come off or tear, resulting in double the cost.
paint
A homeowner can do the painting without asking for any professional help, even if painters are employed, unskilled workers can complete the job without incurring a high cost.
---
7-

Application
Wallpaper
Only a few skilled people can install the wallpaper themselves, applying wallpaper background is the best work of an expert, the process is complicated and requires a lot of time and patience, the same is true for removing wallpaper also as it is not possible to apply a new layer of wallpaper on top of the existing one .
paint
It is the easiest and least difficult option for walls. A day or two is enough for a room paint job. Painted walls are also very suitable for new coats of paint of the same color. In most cases if the surface is not too bad, a new coat of paint can be applied to the old one.
---
8-

Where to use it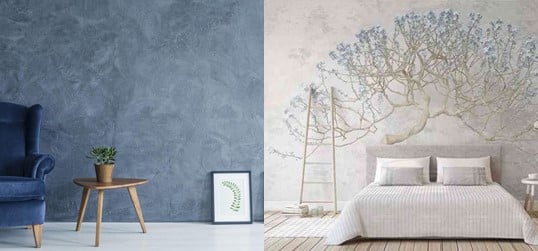 While deciding on wallpaper versus paint, consider the area of ​​your home, as paint is generally suitable for all parts of the home, while wallpaper does not do well in areas with moisture and heat.
Wallpaper
It does not work well in areas with humidity and heat such as kitchens and bathrooms, due to the possibility of tearing or damaging the wallpaper easily, as high humidity in those places may cause the wallpaper to peel off from the wall, and it is not recommended to use it in open places exposed to various weather factors, such as windows It is also preferable to avoid using it in high traffic areas or children's rooms.
Other than those places, wallpaper can be used anywhere else in the house.
paint
Suitable for all parts of your home, so it is preferable to use the right type of paint in the right place, usually the glossy paint is more strong, durable and less exposed to peeling, so it is often used in partitions and doors, while the matte paint is used in painting the interior walls, and a special paint should be used for open spaces When painting any open places exposed to various weather conditions.
---
9–

Maintenance work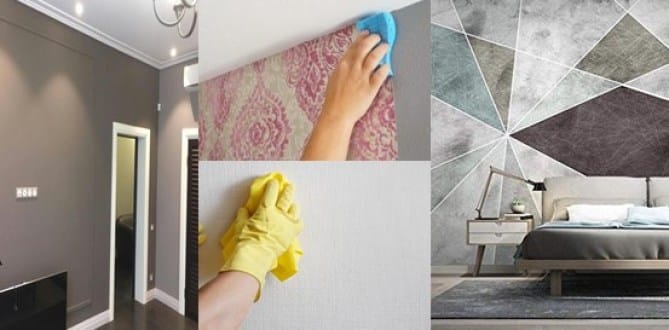 Wallpaper
The wallpaper can be washed and cleaned easily. Just wipe it with a damp cloth, thus it is easy to maintain. However, if the wallpaper tends to get dirty, cleaning it can lead to a slight scratch and damage it, be careful.
paint
Dirt on the wall may require repainting, especially if the color is white or cream. Each type of paint comes with special care instructions.
---
10-

removal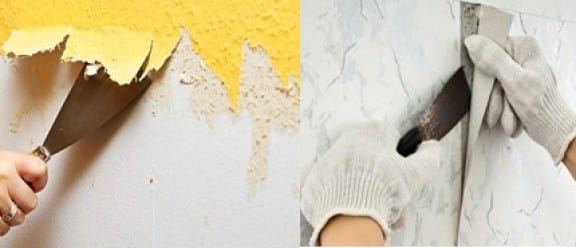 Wallpaper
While sticking wallpaper was a difficult step as you need the necessary accuracy, removing it from the wall is an easy step, scrape it off little by little and your wall will become as good as new, and sometimes several pieces of paper stick to their place on the wall very stubbornly, you should contact the professionals when trying to remove wallpaper .
paint
Removing paint is a stressful and tedious process that may lead you to think, is it really necessary to remove paint? The process begins with scraping the old paint off the walls, stripping it, and then sanding it to get smooth walls that you can paint again.
Paint, on the other hand, may seem stubborn and difficult to remove, but it is quite the opposite. With just a special paring knife and some grit, you can peel an entire wall on your own.
---
11-

aesthetic appearance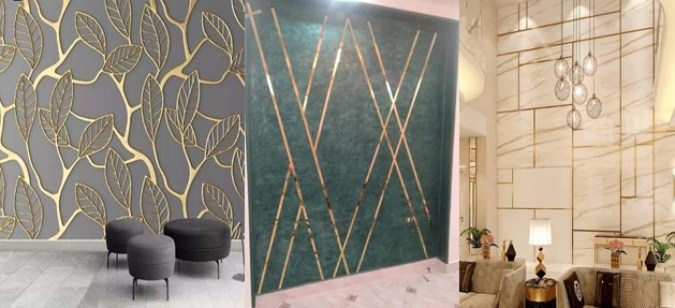 Both paint and wallpaper can be used on walls in effective ways to enhance the aesthetic appearance of your rooms. Use decorative paints or bright textured wallpapers that can add to the aesthetic appearance of your room. Unleash your creativity and add your individual style to each room.
12-Safety
The pungent smell of the paint during its use and its continuation for several days of emptying it makes it unacceptable for those who suffer from chest allergies, while the wallpaper is free of this defect.
Finally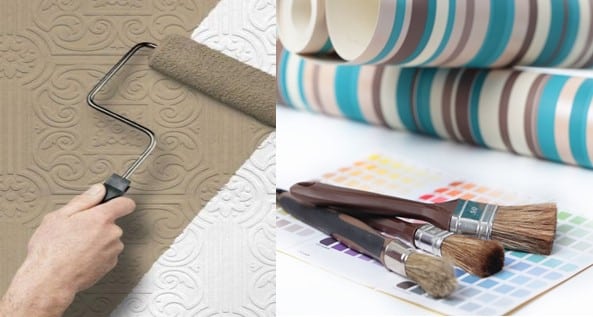 Life is all choices, some regret choosing it and some make us proud, whether you choose wallpaper or paint, one will give a subtle and bold color and character to your home to appeal to both, try paintable wallpaper or stick to paint or wallpaper. The choice is yours and that's why you make your home so exciting
Whatever you choose for your walls will benefit from adding paint or wallpaper.
Consider your requirements, calculate your budget, and then make a choice. No matter which option you choose, trying to choose cheaper materials will not give you the desired results.
---
and site Architectural lens We previously presented topics related to wallpaper that you can visit from the following links: 15 innovative wallpaper ideas that fit your home decor – Fashion 2020 & the latest types of new wallpaper – Modern Wallpaper Design Ideas 2020 From here you can see the latest paint trends 2020.
Sources
1- Wallpaper or paint: advantages and disadvantages.
2- Paint or wallpaper for your rooms?
3- Which is better for the walls of your house: paints or wallpaper?
4- Wallpaper vs Paint: Insider Info You Need to Know
5- Painting over wallpaper – is it a good or a bad idea?
6- Paint Vs. Wallpaper: Which is the Better Home Decorating Option?
7- Wallpaper or Paint, Which Would You Prefer at Home?
8- What Should I Use for Walls, Wallpaper or Paint?
9- The Pros of Cons of Painting vs. Wallpapering
10- Wallpaper vs. Painting- The Complete Comparison Guide
11- Which is better for home decoration, paint or wallpaper?
12- Which is better for the walls of your house: paints or wallpaper?
13- The basis for choosing wallpaper