Writing and publishing – architect / Dina Shukri Hussein
In our first article of the series The Art of Exploiting Narrow Spaces, we talked about how to take advantage of the spaces of a small house, and in our second article we shed light on small bedroom design solutions, and here we are again with an architect's lens. In this article, we will present to you innovative ideas for arranging a small children's room to make it look Make the most of every possible space.
an introduction
The smallest room in the house is usually allocated to be the children's room. Despite this, children's rooms are among the most occupied rooms in the house with different purposes, as they contain the main furniture in the bedrooms, along with places for studying and games. This makes it more vulnerable to chaos and distress.
Every mother seeks to design a distinctive room for her children to feel happy in, and the space worker may stand in front of her as an obstacle towards designing a distinctive decor, but in the world of decoration you can always innovate, there are a group of ideas and innovations that prove that space is no longer an obstacle that makes you feel that the space of the place is larger than it looks.
Tips and ideas for how to arrange and expand small children's rooms:
Children's bedrooms are one of the easiest spaces that can be furnished and decorated in the house, because they depend on everything that is light, small and cheerful, but the problem of their small area and size makes it a little difficult to make choices. That is why we offer you these tips and ideas to help arrange this small room.
First: Take into account the number, type and age of children when designing the room
When designing the children's room, we must take into account the number, type and age of the children in the room (a baby – one child in school, a boy or a girl – two or more children, whether they are the same sex or different – ​​a teenager, a boy or a girl). From these nuances, the design style will depend. .
For example:
1- When designing a room for baby Emphasis should be placed on the comfort of the mother who takes care of him, on places for safe play for him, and places for keeping his needs.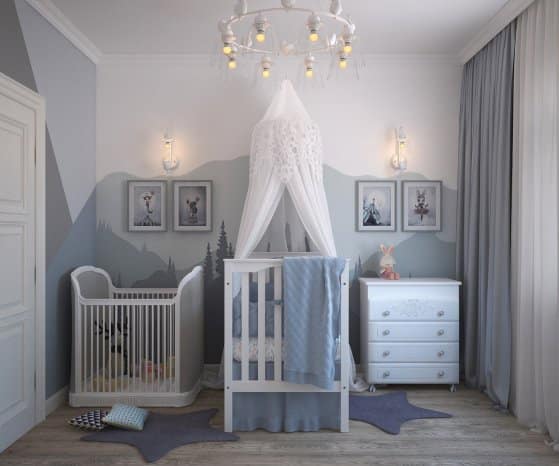 2- For school children A comfortable study area should be provided.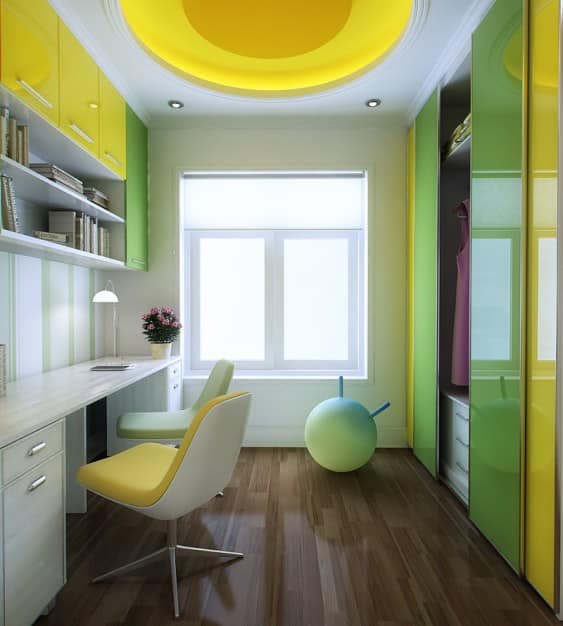 3- V Teen rooms A design that suits their needs and tastes must be achieved.
4- Shared room for two children of different sexes It is necessary to consider defining a separate space for each to ensure privacy as much as possible.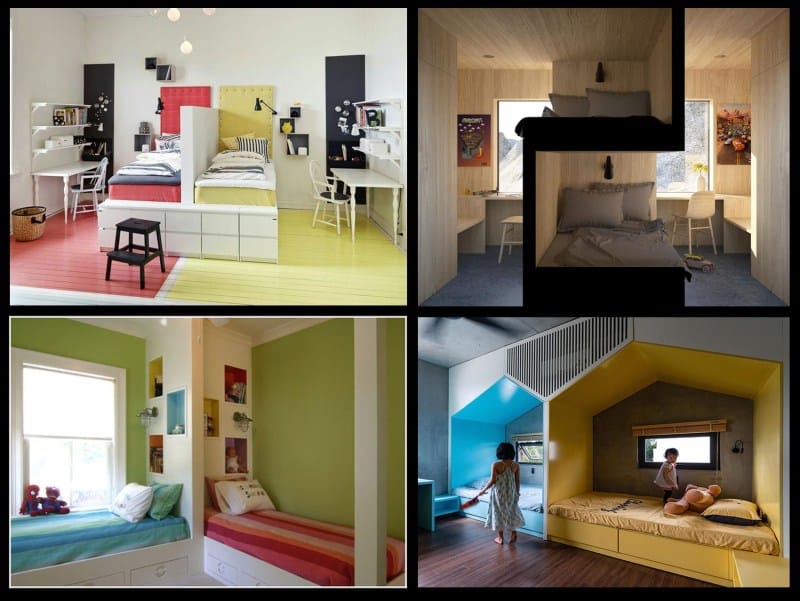 Second: Tips and recommendations for finishing the room
Many of us turn to cheerful and colorful colors when finishing the children's room, but this thing with small rooms turns into a mess and makes the room crowded, which gives a feeling of tightness.
To prevent this feeling, it is preferable that the colors of the walls, furniture and decorations be in light colors such as white, yellow, milky, rose and other light tones, which increases the room's width and makes it appear wider than it is.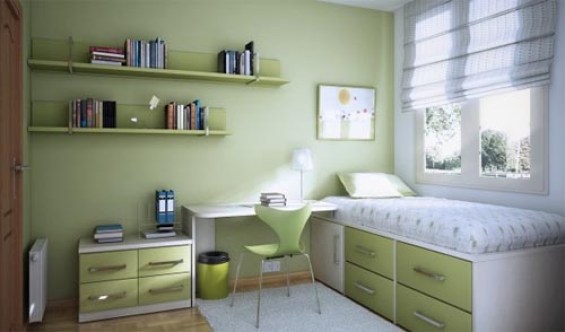 If we want to use wallpaper in the children's room, we must make sure that it is light in color with few drawings, and it is preferable to place it on one wall with a commitment to simplicity in the rest of the walls to be calm in color and design, and to stay away from paper with multiple graphics and colors, which may contribute to the feeling of narrowness and crowding of the room.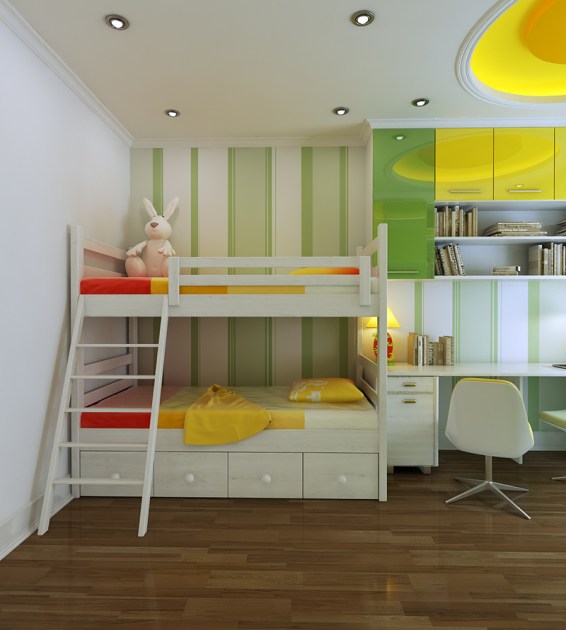 Although it will not actually save space, but it will make the room appear larger, so care must be taken to choose the lighting of the room well. It is necessary to provide good natural lighting and ventilation for the room through windows of appropriate dimensions. Artificial lighting also has an important role, but it must be well distributed in the room to achieve comfort.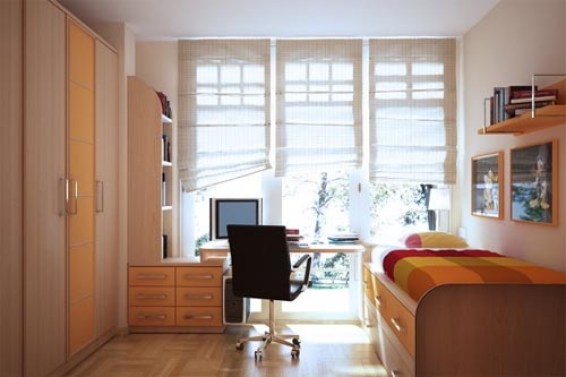 Industrial lighting is not limited to the chandelier only, but there are three levels of optimal light distribution for the room:
1- Central direct lighting: They are in the ceiling through a large chandelier in the middle, or two small chandeliers symmetrically on the sides of the ceiling, or sufficiently distributed spots.
2- Custom lighting for specific places: Such as lighting the place of studying or playing through desk lamps or hanging directed at the places where the lighting is to be increased.
3- Indirect lighting (hidden): It works to create a calm and comfortable atmosphere for the room, especially if it is in light colors, and is done by making a suspended ceiling with a hidden LED strip inside.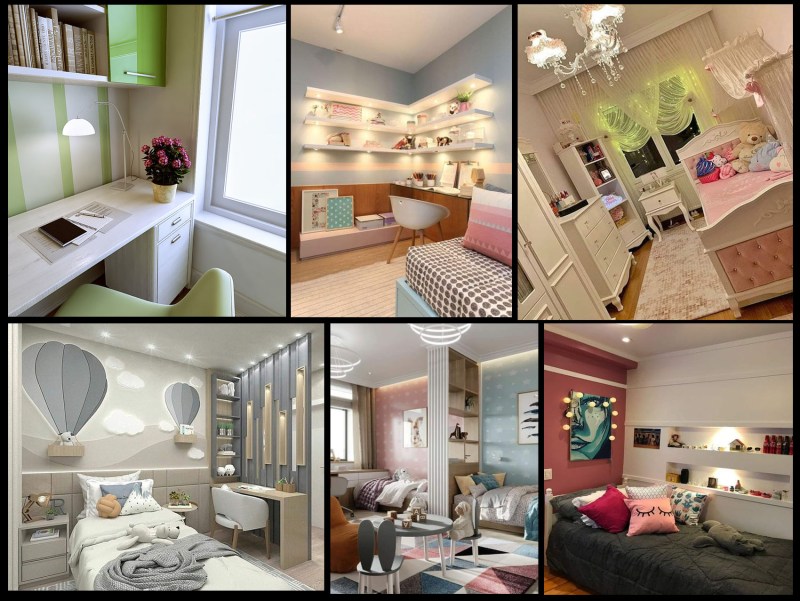 Third: Study the dimensions and shape of the room
The arrangement of narrow rooms depends on studying the spaces and making good use of them, especially children's rooms. The room may need a specific design, especially if it has irregular borders or non-right angles. With the presence of cavities or narrow angles, it is necessary to take advantage of these cavities by choosing the appropriate furniture for it as if it were Part of the design or use as a place to store baby toys and essentials.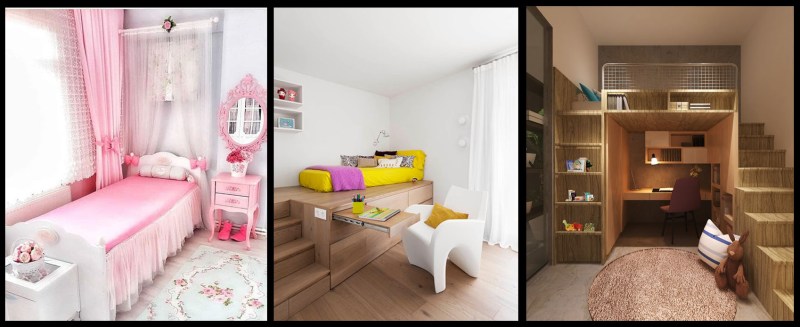 Fourth: Choose the furniture
Avoid placing a lot of furniture, as it reduces the space of rooms, especially small ones, so it is important to accurately prioritize what the child needs.
Always use small and practical pieces of furniture and stay away from large sizes, the specific space for everything must be measured accurately so as not to buy larger items that cannot be used.
It is preferable to buy children's furniture instead of adult furniture, to increase the room's floor space, because children's furniture is smaller and narrower.
– The use of furniture built into the wall, instills a feeling of independence in the child. The idea that the material of the furniture is similar to the material of the floor is an amazing idea that makes us feel that the room is spacious and almost devoid of furniture.
Eliminate pieces of furniture that may crowd the room and replace them with pieces that serve the same purpose, but in smaller sizes, such as drawers or shelves instead of the cupboard.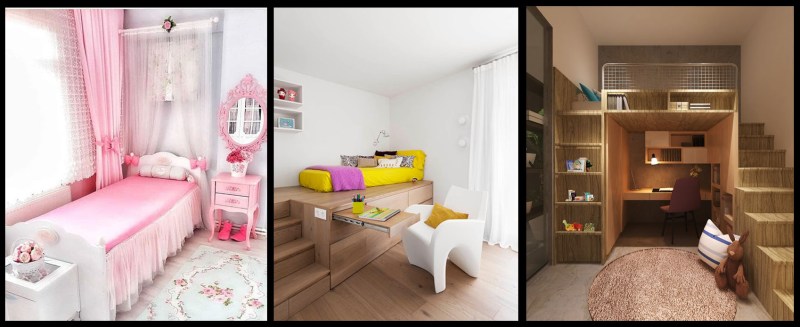 Fifth: Use space-saving smart furniture
Use space-saving furniture asVersatile Furniture or foldable, such as a sofa bed or double underbed, or a small double desk that includes a bedside table, with a chair that can be used to sit adults and children doing homework or coloring, or a wall-mounted desk that folds away when you are done using it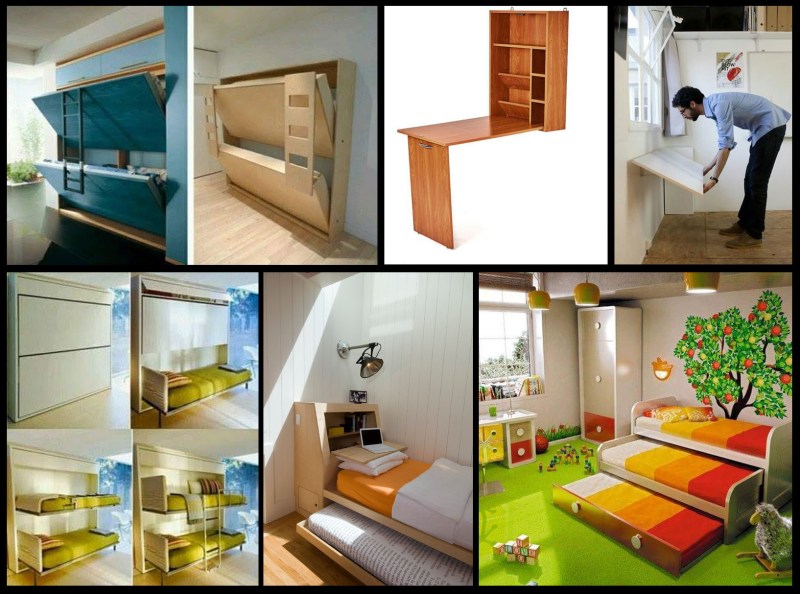 – The bed is one of the most important furniture in children's rooms, and its shape and dimensions are determined to suit the age and number of children and also to be suitable for the size and space of the room. Traditional bunk beds are the ideal solution in small rooms, especially if they are shared by two children.

The use of smart furniture that combines different pieces of furniture in one piece, which is ideal for narrow rooms, instead of buying a cupboard, a bed, and a desk for the children's room, you can buy one piece that has all of that, and then provide a place in the room to use it in something else.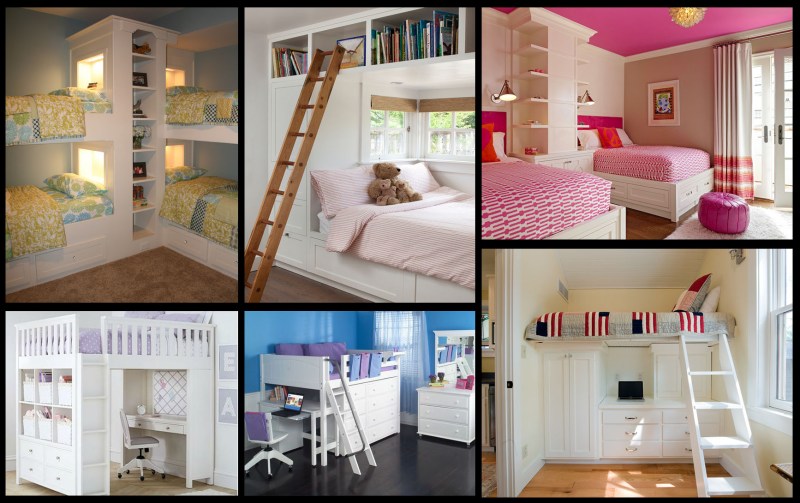 Sixth: Optimal use of space
Exploiting the wall next to the bed or behind it. These walls are considered one of the neglected spaces for many, which most mothers usually use to hang wall paintings or drawings or leave it as it is, but a clothes hanger in this space helps to organize clothes and bags, or put shelves to stack Items and toys that enable you to get rid of the knees of the room without wasting space.

Exploiting the space under the window to place a comfortable desk or seat to sit and read, as it is the most appropriate place where natural lighting and a refreshing atmosphere are available.
If the ceiling of the room is high, this point cannot be neglected and must be taken advantage of, such as raising the bed and exploiting the space below as a play, study or storage area.
Exploiting vertical spaces in placing storage units, extra beds or shelves, as they reduce the floor space.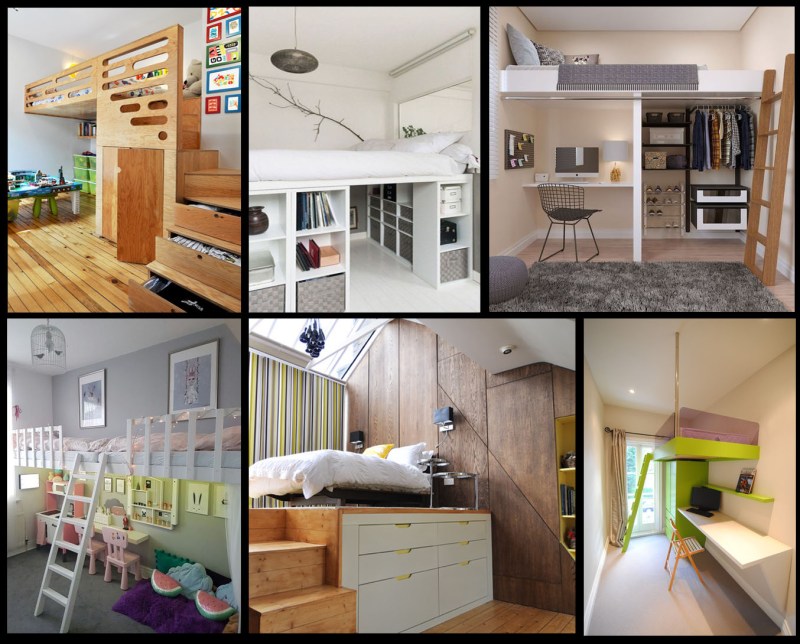 Seventh: Arranging and storing children's toys and preventing carpooling
The children's room is often cluttered, which makes it difficult for the mother to clean and tidy up. The chaos is due to the lack of enough space to store the many things of this age group. How do we store toys without negatively affecting the children's room?
Here lies the role of exploiting hidden spaces, which are spaces that do not appear clearly but can be exploited in several ways, such as exploiting under the bed, under the desk for storage, using doors to hang clothes or over the cupboard to store toys or items that are not commonly used. Hanging some bags or making storage pockets at the side of the bed are simple ideas, but they help collect many of the child's needs and arrange rooms with small spaces. Here are some of these ideas for organizing and storage.
One of the good options that does not take up much space in the children's room is pieces of furniture with drawers, such as a bed with drawers on the bottom or on both sides, or a play table with drawers.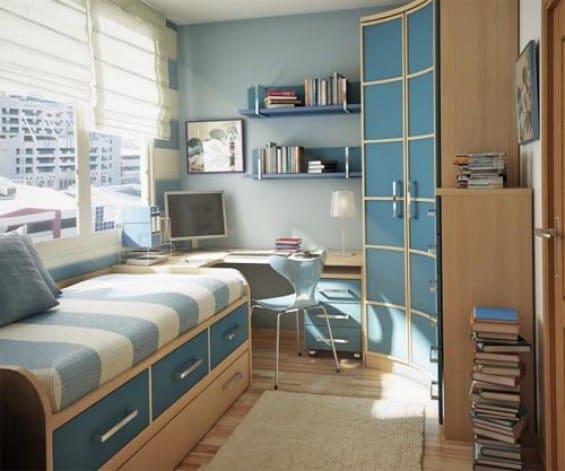 Simple plastic boxes are very important in children's rooms, these boxes can accommodate a lot inside while taking up a small space in the room, and a natural wooden structure can be made for them to add a warm touch to the room.
Dividing the toys into baskets or boxes is easy to maintain and keep them organized, as it enables you to organize all your little one's things on one wall, within easy reach.
Wheels can be added to it so that it can be easily moved while cleaning, or stored under the mattress, and so it is easy for the child to pull it out and put it back in again.
It is better to choose the transparent ones so that it is easy for the child to see what is inside, or you can paste paper that holds the contents of each box.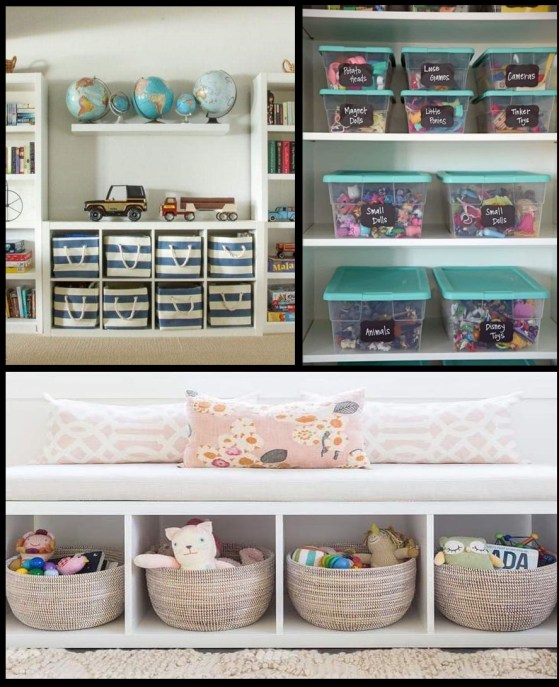 Shelves are considered one of the basics of the children's room for several reasons, as they provide space for keeping their various things, and help the mother to place some things high, so that the children can only reach them under her supervision, and achieve a distinctive decor for the room.
If you do not want to puncture the walls or hang something on them. It is possible to adopt the units of moving drawers and shelves, so that children can draw, color and various handicrafts. After completing their activity, the items are collected in order within the unit, which is placed in one corner of the room without creating a mess.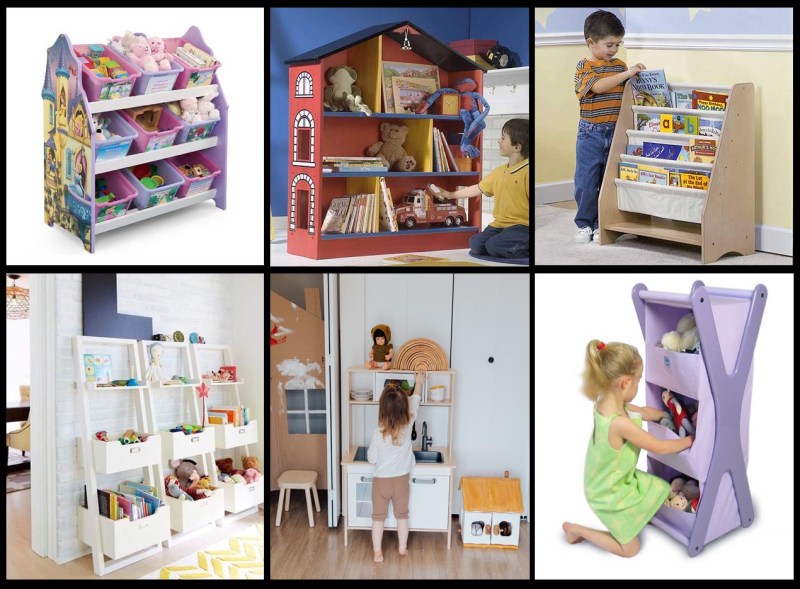 Having a colorful library in your children's room saves you a lot, because the child makes an effort to find the toy he wants from the box, and he may have to take all the toys out of the box until he reaches the game he wants. While this library will help reduce room crowding, and toys scattered on the floors because the child will put the toy on the shelf easily after he finishes playing, and he will not need time to reach it again.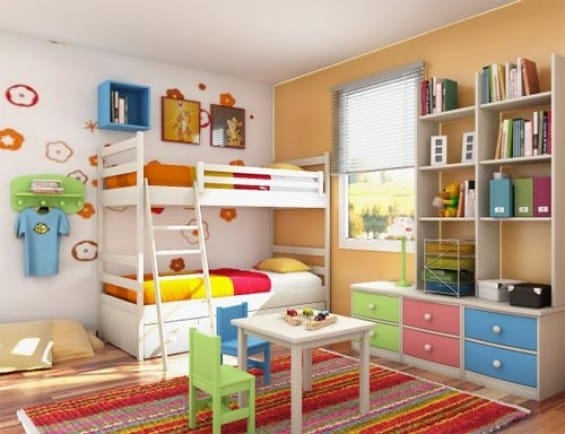 The stand is a good idea as it does not take up space and contains as many toys and gadgets for the child as possible. It can be hung on the door or the wall.
Eighth: Arranging and organizing children's clothes
Interior designers suggest buying several baskets in different colors, so that each basket is dedicated to a group of clothes, such as allocating a red basket for socks, and allocating a green basket for home kits, or if the children's wardrobe contains several drawers, you can also implement this idea by coloring each drawer in a distinctive color , But if your children are of an advanced age and can read and write, it will be easy, as you can put signs with the contents of each basket written on it.
The function of the drawers will not be complete without an organizer that separates things from each other and makes them visible to your child's eyes, and enables him to take the item he wants and put it back in its place easily.
Allocate a place in your children's wardrobe to arrange shoes, for example, if seasonal shoes are available, it is possible to allocate an upper shelf in the wardrobe to arrange those shoes.
Allocate the top of the wardrobe to store blankets and seasonal clothes, so that it is easy for your children to take them out on time.
For babies, they need a place for diapers and their small clothes easily accessible, and there are many ideas that we will present to you.
Finally
Thus, we have shed light on how to make the best use of small children's rooms and arrange their elements and make them appear larger In our next article, we will talk about Small living rooms and how to exploit every corner of it… Follow us
Sources